​​​​​​​
Design of graphic identity and packaging for Color Café. 
Color Café is not simply coffee, it is also a support for local artists, highlighting its 100% Dominican origin, collected in an artisanal way in the coffee plantations of Barahona, Dominican Republic.
The fruit of the coffee plantations is picked and selected manually, then roasted and ground to give the final touch to its flavor.
Color Café expresses Dominican diversity, authenticity, art and flavor through the unique flavor of coffee.
The packaging reflects the Dominican spirit through the face of a Dominican woman with her lips in the shape of a coffee bean and a handkerchief filled with texture that symbolizes art. There is a continuity in the bags, completing the faces, which highlights the diversity and human chain behind the production of coffee. On the other hand, the bottom of the bag is used as another graphic element of the packaging and the appearance is clean and minimalist, distinguishing itself aesthetically in the local market with a European air that represents the LBVG brand, since the owners are of origin French-Dominican. The type of coffee and the weight are selected by hand during the process of bagging the coffee.
Slogan: "
When Dominican coffee is art
"
-
Creación de identidad gráfica y packaging para Color Café
. 
Color Café no es simplemente café, es también un apoyo a los artistas locales, destacando su origen 100% dominicano, recogido de manera artesanal en los cafetales de Barahona, República Dominicana. 
El fruto de los cafetales es recogido y seleccionado manualmente, seguidamente es tostado y molido para dar el toque final a su sabor.
Color Café expresa la diversidad, autenticidad, el arte y el sabor dominicanos a través del sabor único del café.
El packaging refleja el espíritu dominicano a través de la cara de una mujer dominicana con sus labios en forma de grano de café y un pañuelo relleno de textura que simboliza el arte. Hay una continuidad en las bolsas, completando las caras, que destaca la diversidad y la cadena humana que hay detrás de la producción del café. Por otro lado, se usa el fondo de la bolsa como un elemento gráfico más del packaging y el aspecto es limpio y minimalista, distinguiéndose estéticamente en el mercado local con un aire europeo que representa a la marca LBVG, ya que los dueños son de origen francés-dominicano. El tipo de café y el peso se seleccionan a mano durante el proceso de embolsado del café. 
Slogan:
Cuando el café dominicano es arte
"
First Proposals / Primeras Propuestas
Final Design / Diseño Final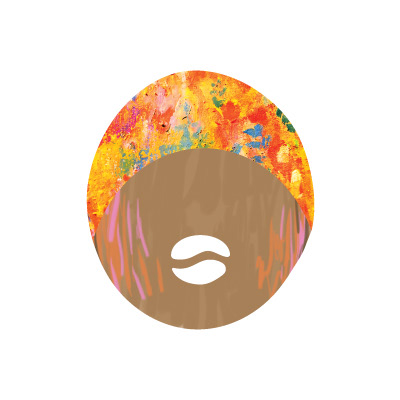 Color Café con el artista dominicano José Marte